Biocare iE300 Digital Electrocardiograph [SKU:
N/A]
Features
Weighs: 1.3kg
3-Channel ECG Sheet: Print directly in 3 channels, more time-saving
Medical Authorized: FDA & CE approved
Easy Patient Management: Share in PDF, DICOM, and XML formats, easily transmit patient reports to the hospital network.
15 Language Settings: Multi-language options for operation – English, French, Spanish, Italian, etc.
Auto-analyzed Result: Advisory rhythm analysis based on authorized databases
Compact & Portable: Light in weight, Handle for carrying
Adults & Pediatrics: Support ECG tests and analysis for adults & children
Voice Reminder: Voice and visual reminders for lead-off, low-battery, and paper runouts.
Advance Features
Display: 5.0 inch high-resolution LCD
Charging (Two Ways): AC powered for unstoppable working mode; Built-in rechargeable battery to assure continuous operation when AC power is unavailable, up to 3 hours.
Peripheral Ports (2): USB port for saving data on USB devices and LAN for net connection.
Storing space: 1500 files
Package Includes
one set of limb electrodes (4 pcs), one set of chest electrodes (6 pcs), one set of ECG snap-clip adapters (10 pcs), & lead wires
one pack of disposable electrodes (10 pcs)
one power cable & one set of one piece of grounding cable & handle set
one roll of thermal recording grid paper & one paper roller
The Biocare Digital Electrocardiograph (iE300) is a Portable 12-lead ECG machine for rapid diagnosis and instant ECG tests.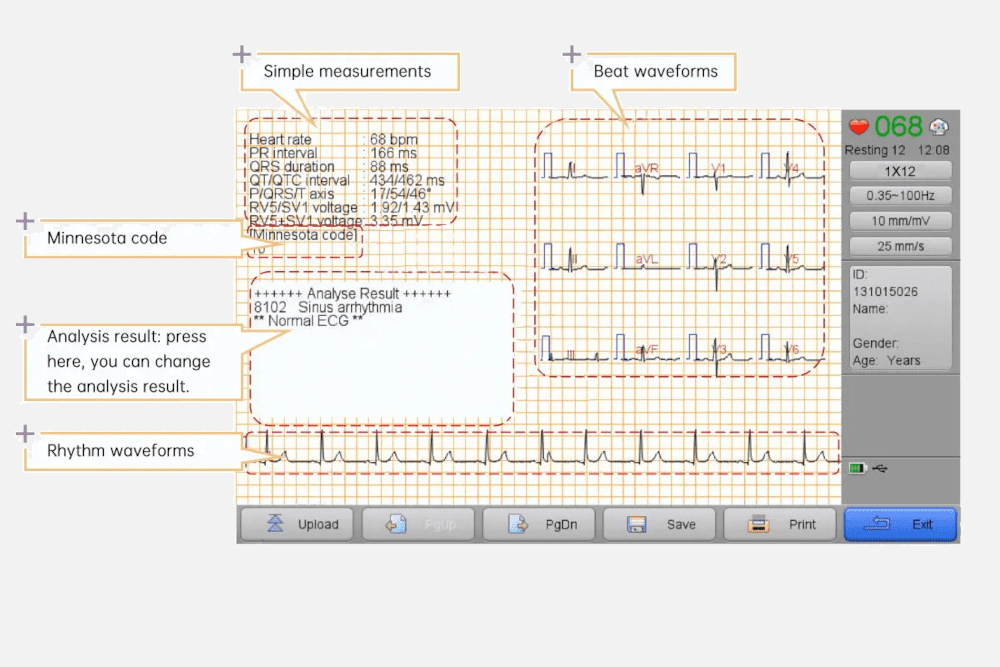 It automatically analyzes waveforms (manual mode included) based on the Biocare CardioProTM ECG analysis program. The program is proven by –
CSE (Common Standards for Quantitative Electrocardiography)
AHA (American Hospital Association), and
MIT (Massachusetts Institute of Technology) databases.
The program is able to generate advisory results for clinicians for both adults and children. Make heart abnormalities detection more accurate and time-saving.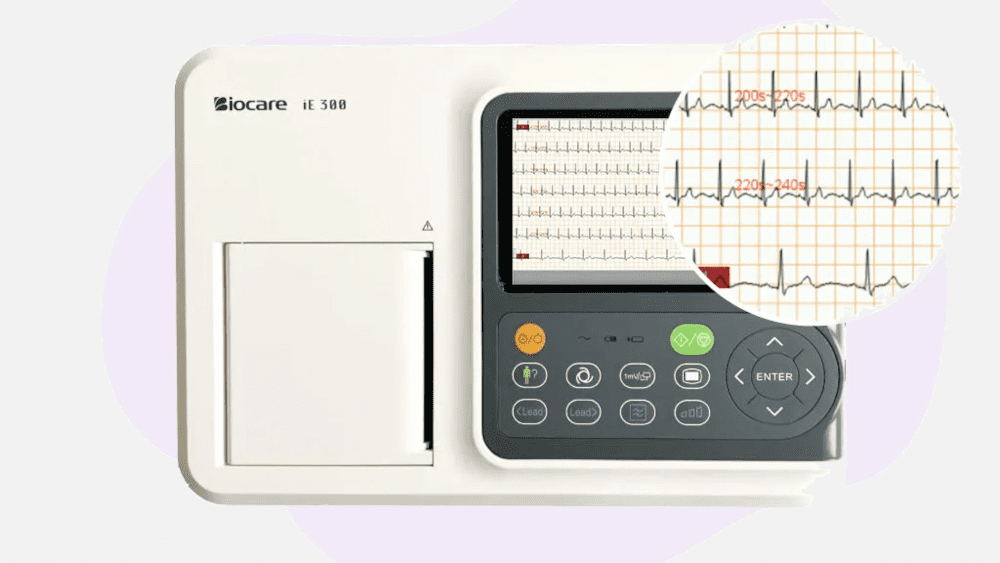 This portable ECG machine manages patient data in one device and transmits ECG reports to the hospital directly. This Median Beat report includes patient information, simple measurement data, Minnesota code, beat waveforms, and rhythm waveforms. The analysis result can be manually edited by the user.