Portable UV Sterilizer [SKU:
PUSte]
Description
Sterilization principle: Professional laboratory studies show that our UV sanitizer light is now authoritative certified that anti-germ rate up to 99.9%, The UV disinfection light destroys the molecular structure of DNA (deoxyribonucleic acid) or RNA (ribonucleic acid)in bacterial viruses through ultraviolet rays with a wavelength in the range of 270 ~ 285nm.
Disinfect Quickly and Effectively: Turns on the ultraviolet sanitizer light wand, simply sweep the portable UV light sanitizer wand across the surface or stuff you desire to clean, it makes the environment safe and clean within 10 seconds without damaging any surfaces, makes non-toxic, no residue, no odour, no secondary pollution.
Portable, Sterilize Anytime: The UV sanitizer lamp built-in 2000mAh USB rechargeable batteries, with compact design and lightweight super convenient to carry while travelling and outings. Our UV disinfection lamp is widely used for home, office, school sanitizing, this UV ultraviolet germicidal lamp will be a nice choice to disinfect phones, toys, keyboards, laptops, doorknobs, toothbrushes and toilet covers, also can sterilize pillow inside, clothes and bed stuff and others.
Smart Auto Timing off & Child Lock Design: The Smart Auto Timing off in 180 seconds of this portable UV light wand helps to save power, extra thoughtful Child lock avoid kids misuse.
Quality & Safety: Our UV light Sterilizer is an exquisite wand with nice touch feel, adopted the selected ABS material and advanced led light beads to ensure obvious sterilization effect and durable, Led UV Lamp lifespan more than 10,000+ hours. The UV sterilizer light is CE, FC, RoHS certified, not only proven works for disinfecting and sanitizing but safety in use.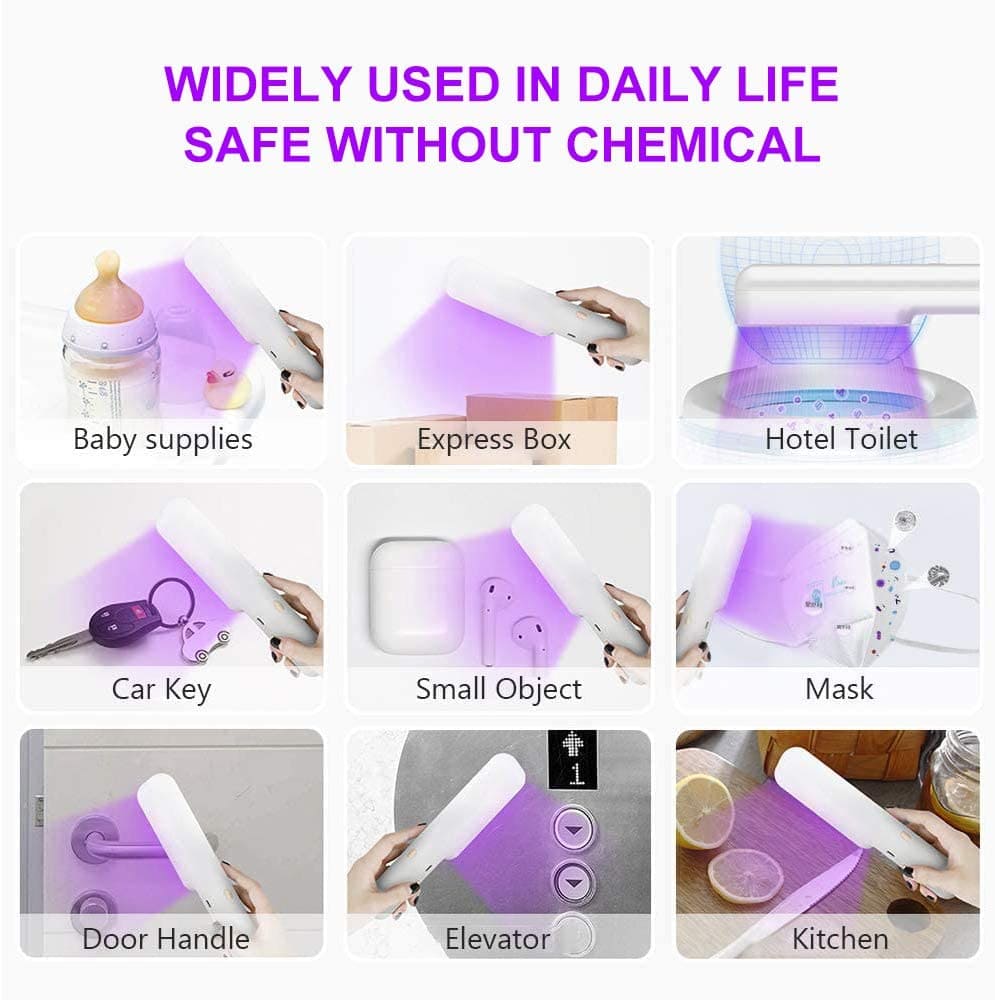 Specifications
| | |
| --- | --- |
| Product Name | UV sterilizer lamp |
| Model Number | Kiwi01PUS02 |
| Executive Standard | GB19258-2012 |
| Material | ABS+PP+PC. |
| Feature | Highly efficient sterilization, portable, handheld. |
| Battery Capacity | 2000 mAh. |
| Wavelength | 265nm |
| Input | DC5V/1A |
| Power | 7W |
| Charging Time | 2.5~3h |
| INPUT | TYPE-C |
| Lamp Power | 96nw |
| Battery Type | 18650 lithium ion battery |
| Color | White, Pink |
| Product Size | 219*34*40mm |
| Product N.W. | 270g/pc |